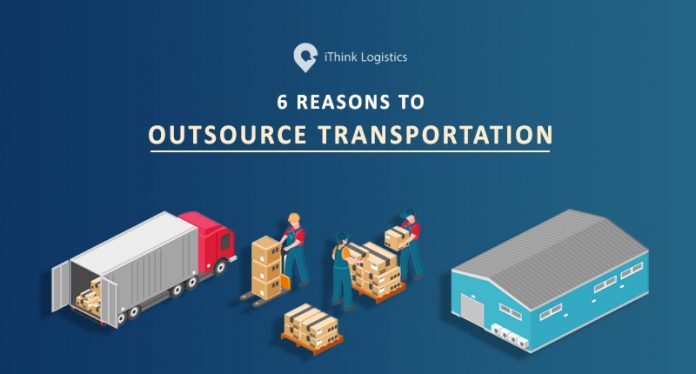 Share the post "6 Reasons To Outsource Transportation To A Third-Party Logistics Provider"
In the competitive market, when it comes to providing A-class products to customers at their doorstep through e-commerce sites and online stores are bigger than ever. As the globe becomes smaller, there is a need for greater connectivity for small and medium businesses to reach out to all the possible customers wherever they're situated. As a business owner looking to boost my sales through better fulfillment services, it gets difficult to keep up with orders with the growing demands that come with expansion. At such times, with a small or medium business like yours and mine, affording our own logistics team may get a very expensive affair. So there are many reasons to outsource logistics to a third party!
Does that have to put a full stop to our growth? It's highly unlikely!
Luckily, we can hire extra sets of arms to help us out fulfill our orders from the 3PL industry. They're experts who get the work done spectacularly well within your budget. If you're looking for a reason to outsource your transportation to a 3PL, we have 6; read on to know more!
Overview
Third-party logistics companies, also known as 3PLs are gaining swift popularity among retailers and other companies in the industry. With the growing demand from customers wanting better online order fulfillment, these companies are joining hands with 3PLs to keep up with multi-channel and online selling strategies.
You may be familiar with the term 3PL, but do you know everything about it? When it comes to making decisions such as your need to hire a 3PL for your company, there are several questions that need to be answered, including the reasons to hire them. Third-party logistics companies have their share of benefits, factors, and disclaimers you need to be aware of before you take the plunge and sign the dotted line.
Read below to understand everything you need to know about 3PL and the 6 reasons to outsource transportation to a third-party logistics provider.
Reasons To Outsource Transportation To A 3PL Logistics Provider
The role of a third-party logistics company is to make the process of supply-chain fulfillment easier for companies who have the resources but not the expertise to have their in-house logistics unit. The following are six reasons why you should outsource transportation to a 3PL logistics provider.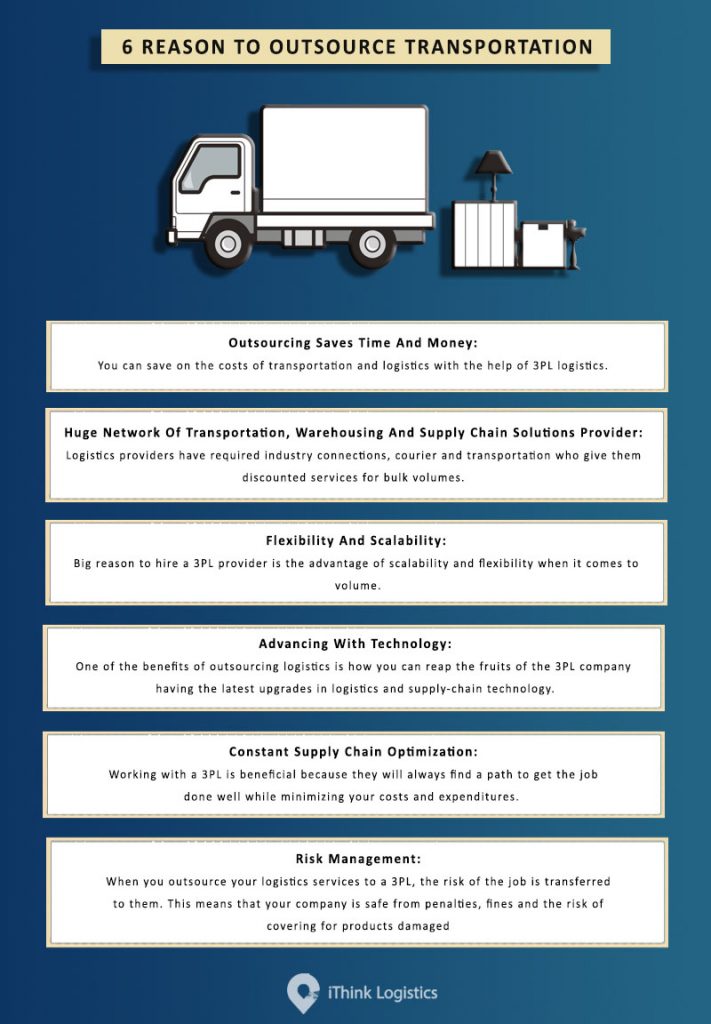 Outsourcing Saves Time And Money
You can save on the costs of transportation and logistics with the help of 3PL logistics providers since they already have transportation management systems, warehousing, carrier network, industry expertise and reporting abilities to make your job more streamlined. So whenever you are thinking of outsourcing your logistics, see what are the benefits you can get and how 3rd party logistics work.
You Can Have A Huge Network For Transportation and Warehousing
In-house supply-chains would not have the kinds of resources that a company dedicated to providing logistics solutions would. They have the required industry connections, courier and transportation who give them discounted services for bulk volumes and their own warehousing facilities that you can take advantage of rather than spending capital building your own.
Flexibility And Scalability
A big reason to hire a 3PL logistics provider is the advantage of scalability and flexibility when it comes to volume. Your company may not be able to store the increased volume of goods with the growth of your business. They have the warehousing and transportation capacity to support your expanding business and hence will immensely benefit you.
Advancing With Technology
One of the benefits of outsourcing logistics is how you can reap the fruits of the 3PL company having the latest upgrades in logistics and supply-chain technology. Looking at logistics outsourcing examples in the big leagues is proof enough to show you how your supply-chain management system becomes more streamlined, time-bound and reaches a level of expertise when you hire a technologically advanced service provider.
Constant Supply Chain Optimization
Working with a Third Party Logistics is beneficial because they will always find a path to get the job done well while minimizing your costs and expenditures. The logistics team has experts on board who monitor, analyze and improvise their plans every day to stay optimized and on top of their game because shippers love supply chain visibility.
Risk Management
When you outsource your logistics services to a 3PL, the risk of the job is transferred to them. This means that your company is safe from penalties, fines and the risk of covering for products damaged in transit since the cost is to be borne by the third-party service provider.
What Is A 3PL?
3PL is the abbreviated form of third-party logistics companies. It is also known as fulfillment companies or pick and pack companies. A 3PL fulfills the responsibility of handling your supply-chain process effectively. The supply-chain processes of a company may include inventory management, warehousing, transportation of freight, reporting as well as forecasting among other functions.
3PLs may be of different types that could cater to a specific industry or specialize in a certain process. No matter what, they are known to help your organization's online retail supply chain become better.
What To Consider Before Hiring A 3PL Outsourcing Company
Once you know the reasons to hire a 3PL outsourcing partner, what you need to know is how to do it. Very often, retailing and e-commerce companies end up choosing a seemingly reliable logistics company only to be met with extreme disappointments. It is your responsibility to choose with utmost care a 3PL partner who provides consistent and great services throughout their tenure. Acting in haste or falling prey to attractive offers is an easy way to set your company up for a loss in bad investment while losing customers due to inefficient delivery systems. Here are six points to use as basic guidelines while choosing the right third-party logistics provider for your company.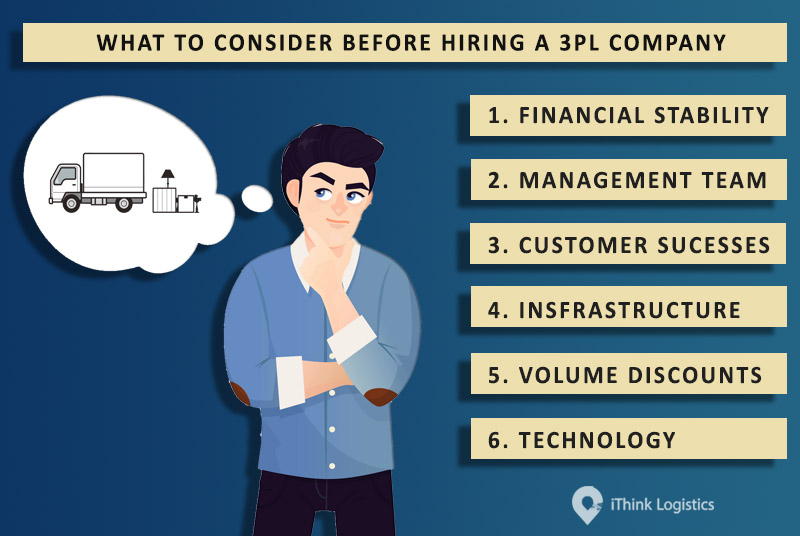 Financial Stability
Take a hard look at the financial standing of the 3PL company you're aiming to hire. Do they verify as financially stable? Who are they receiving funds from? Find out whether the company is a parent company or created by a group of private investors? The financial statements of every public company are available on the internet. In the case where this 3PL provider is a private company, research their financial statements by asking them. Their credibility comes from the funds they have accumulated to deal with economic turbulence and the uncertainty of the market.
Management Team
Study the company's management team and expertise level. Every great management team will have great knowledge of the logistics industry. A strong team means that your company will reap the benefits of its efficiency. Choose a third-party logistics company that has the best knowledge about your industry and business to receive specialized services that are specific to your industry.
Customer Success Stories
Reliable end-to-end logistics service providers will always have proof of their credibility. What better way to prove their mark on the industry than client reviews? Such companies make case studies of their previous and ongoing client contracts to show the difference in their operations on the company made. Feel free to verify your facts by confirming with the customers if they're another retailing organization to cross-check the facts. You may also ask for letters of recommendation from the clients of the past from the 3PL logistics provider. Speaking to their current clients, too, will give you a good idea about how the company functions and serves its customers.
Infrastructure
When it comes to choosing the right 3PL partner for your retailing organization, infrastructure is a critically essential factor when it comes to transportation logistics. The logistics company you appoint as your 3PL needs to be able to manage the volume of your orders, especially during the peak business seasons. Forecast the number of your products that require transportation for delivery on a usual basis as well as during the peak seasons. Then cross verify if your prospect can handle the size of your products to be stored and delivered on time with the right infrastructure even during the busiest days.
Volume Discounts
Look out for prospective logistics partners by checking if their company gets the benefit of volume discounts. It so happens that most logistics companies receive volume discounts for high-volume transactions. Since they hold a grip over the marketplace, deep discounts for courier services, transportation, and trucking, etc. is an advantage they have. Go for a big service provider who has such benefits, so that they can pass on the benefits of deep discounts to your tariff.
Technology
With each passing year, the Informational Technology used in the logistics industry keeps sharpening to provide cutting-edge technology in the processes involved. While hiring, make sure the selection of your third-party logistics companies have the funds and capacity to invest in state-of-the-art technology to provide top-notch services. This way, you get the opportunity to partner with a great logistics partner using the best technology to benefit your contract without you having to directly invest in the upgrading of technology.
Disadvantages Of Outsourcing Logistics
Now that we have seen how outsourcing helps the transportation and logistics industry, there are a few red flags that a retailer needs to be aware of before jumping on board. While there are very few disadvantages of working with a 3PL, they are noteworthy. One of the major turn downs of using a 3PL is losing a part of your shipping process' control. Hiring a 3PL gives a third-party logistics company the most power over an aspect of business that affects your customers the most. Sometimes the supply chain visibility is not enough. If the 3PL fails to provide anything less than excellent services, your company will start losing its customers due to bad logistics. While giving control, you also commit to taking away the informational liberty that your own logistics team has. The 3PL may not always give them the information to continue performing well if in case, the contract ends. Without the basic and institutional knowledge, it will be near impossible for your team to pick up the shipping services in-house where they left off. The last disadvantage can be stated as the hidden in-house services costs that are involved while working with a 3PL.
What Are The Main Transportation Activities Outsourced
The following are the transportation activities that are outsourced by retailers.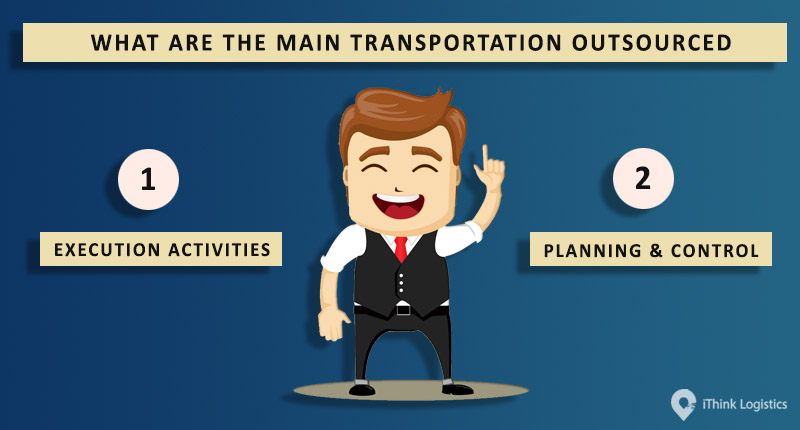 Execution Activities
Tier I: Warehousing and transportation facilities without a long-term business relationship between the 3PL and the shipper.
Tier II: Value-added services that involve distribution after the processes of processing, packing, and labeling to be negotiated on a 1-year term contract.
Planning And Control Activities
Tier III: Management of transport and inventory.
Distribution Network Management Outsourcing where the 3PL becomes a partner in your supply chain management process with rights to make changes and restructure the logistics strategy for better efficiency.
Conclusion
The reasons to outsource logistics entail making the process of supply-chain management easier a task for retailers who do not have the scale, funds, expertise, sources or facilities to establish a proper in-house logistics department of their own. At times, when your business allows you to, hiring a 3PL is better than running your own supply-chain. You get an expert in the industry helping you out at optimal rates to give your customers the best purchasing and online experience. We hope that the reasons and other information regarding hiring a 3PL helped you understand better and come to a productive conclusion.