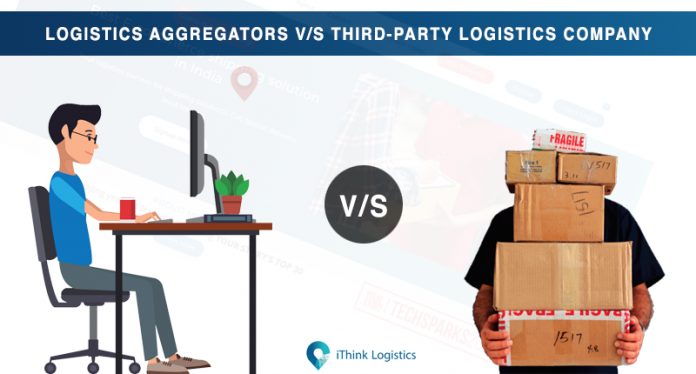 Share the post "Logistics aggregators v/s Third-party Logistics Company"
Logistic aggregators and the 3PL firms both form an important part of the eCommerce industry. Both concepts are essential and are becoming more and more relevant to the global industrial maps. If we consider the two concepts, there is not much of a difference between them. However, some elements can be distinguished between the two concepts. Let us discuss some of the key pointers.
What is the logistics aggregator?
According to a renowned research organization in Bangalore, namely Novonous, India has about $300 billion logistics aggregators and logistics industry. India spends up to 15 percent of its gross domestic product on transport and logistics-related expenses. This is much more than any other developing country that spends about only 8 percent of its GDP on transport and logistics. Moreover, the logistics industry in India is estimated to expand at a considerable rate of 12 percent in recent years. This growth will take place through the manufacturing sectors, FMGC sectors, retail sectors, and e-commerce logistics. These particular sectors have grown immensely in the past years. It is expected to grow even more in the future. The logistics aggregator market and the complete India logistics sector are estimated to worth about $301.89 billion within the coming years.
What is Third Party Logistics Company?
Third-party logistics companies are mainly dealing with third party business operations in supply chain management and logistics management. These companies use third-party businesses for outsourcing elements of the warehouse, distribution centers, and fulfillment services. These logistics providers mainly focus on integrated operations related to transportation services and warehousing. They typically focus on services that can be customized and scaled according to the customer's needs and desires mainly based on market circumstances. Often these services are extended beyond logistical whereabouts including the procurement or productions of goods and services that merge some of the supply chain parts. A provider of such combined services is called third-party logistics and the companies providing them are the third-part logistics provider companies.
The role that logistics aggregator plays
As the logistics industry tends to grow and expand more and more with each passing year, it is very essential to understand its importance and the role it plays in the e-commerce industry. Logistics aggregator typically provides a solution for the e-commerce shipping services prevailing in India. This company provides a bunch of agents that look after all the operational processing of the transportation and storage facilities. They categorize the products according to their subcategories and store them in particular warehouses as required. They are also responsible for the packaging and delivery of the product to its expected destination as soon as an order is placed. The company takes full responsibility for delivering the product safely to their end customers. As the job is done, the logistics aggregator receives a commission amount for the services they provided so far.
Many start-up companies act as a logistics partner for the e-commerce industry. This is because the e-commerce industry completely relies on logistics aggregators. They would probably collapse if no aid were provided from the courier services that are responsible for shipping the products to the buyers. These logistics companies are also responsible for handling many fulfillment centers and warehouses, where the products are stored before they are delivered to the intended customers. They are responsible for proper packaging, safe storage, and transportation for deliveries. They provide every aid that is required to keep customers satisfied and happy with the services along with timely and efficient deliveries.
The demand for such services is growing rapidly and so the logistics start-ups are seeing the light of success with each passing year. It is expected to grow even more in the recent coming years.
The role that third-party logistics play
Third-party logistics plays a vital role in supply-chain management. The council of Supply Chain Management Professionals (CSCMP) said that third-party logistics provides various services for customers which increases the overall profit margins of the organizations. These services are merged by the provider for better usability. The third-party logistics companies provide the following services: transportation, cross-docking, warehousing, packaging, inventory management, freight forwarding.
The current economy we hold, 3PL companies seem to be doing quite well. The managing consultant of New York James Morton allegedly says that 3PL Company has raised its margins since 2009 and the revenue numbers suggest the same. He also says that there seems to be a rebound in the economy and that rebound seems to be the third-party logistics industry. Another data that was released by the U.S and Global 3PL market analysis by Armstrong suggests that there has been considerable profit increase from the year 2009 to 2010 in all four segments of the 3PL industry including Domestic transportation, value-added warehousing, International transportation, and distribution centers. The gross revenue was 19.4 percentage and the net revenue was 13.2 percentage.
However, Morton says that he still sees that little bit of churn in the market place. Almost 64 percent of the personnel in the study committed to 3PL outsourcing, but there was still that 24 percentage that committed to the insource. According to the CEO of echo global logistics in Chicago, there has been an increasing tendency of the shippers to so their outsourcing via 3PL logistics.
Need for the logistics aggregator
If you have or manage any FMCG company or any e-commerce company, then hiring a logistics, the aggregator is a necessary thing to do. It is very essential because as the population increases, the industry expands more and more and the customer expectations reach an immense height. In such circumstances, you have to hire a logistics aggregator so that your company can run smoothly. Therefore, if you want to work on your customer loyalty or want to retain your customers, then you must have complete knowledge about the top logistic companies in India that provides excellent services.
No business entity can survive alone forever. If you want to increase your profit margins and to maximize your customer satisfaction, then you must have accurate partners. Third-party logistics can be a great service provider in clearing up the resources in terms of workforce and time, which can be used for manufacturing or providing better service to your customers. They will provide your company with speedy deliveries, timely pick-up, trained personnel, and multiple options for payment, comprehensive return services, secure packaging, and many more as such. Therefore, many successful e-commerce companies are opting for logistics aggregators to improve their organizational efficiency and optimize their supply chain management.
Need for the 3PL companies
There are several reasons for choosing a third-party logistics company. It has been seen that as companies tend to grow and develop more, the need for the warehouse spacing increases beyond the company's holding capacity. In that case, a third-party logistics provider can be a great help in such spacing issues. However, other companies can face issues like increased transportation costs and higher capital requirements for vehicles and equipment. Third-party Logistics Company often provides you with a large fleet of equipment and vehicles at a much cost-effective rate. Then comes the large U.S based business looking a way out for expanding their business into the Canadian market. A 3PL provider can be the ultimate solution for all such scenarios.
Other reasons for choosing a 3PL company include issues with order fulfillment, problems related to customer services, returns, issues with order tracking, inventory management, technical services, and many more. The more such problems surfaces in the business, the more a company needs a 3PL provider.
Benefits of logistics aggregator v/s third party logistics provider
Benefits of a logistic aggregator
Wide reach
Logistics aggregators help you to reach long distances. This not only expands your business but also creates a wide base of loyal customers. You can reach out to thousands of customers with multiple logistics aggregators at your side.
Multiple service provider
Many logistics aggregators have at least ten more aggregators at their back. Several platforms are providing many different logistics aggregators. You can choose the most suitable aggregator for your business. You can choose the best provider for your pick-ups and deliveries and you can opt for the most cost-effective option.
Marketplace and website integration
You can easily integrate with the websites and marketplace with the help of the APIs. The APIs help in fetching data from your website to save the orders in to make the shipping possible and accessible from the respective platforms. This helps in keeping your orders intact and prevents any loss from happening.
Easy orders and returns
Logistic aggregators have multiple service partners which make it easy for them to access and manage all the orders accordingly. The first thing you need to do is to choose a suitable partner for the business operation to be done. Then in the next step, you can directly place the return orders, as the platform is fully unified. You should never restrict return orders, as the accessibility to pin codes can be very difficult for a single carrier.
Easy access along with the multifunctional platform
Logistic aggregators provide you with a unified platform that enables you to process return orders from one specific location. This makes your job quite easy and you can get access to all your orders and returns in a single platform.
Payment options
Often e-commerce providers cannot provide you with different opportunities for payment options. However, logistics aggregator can provide you with various payment options. You can choose either cash on delivery options or prepaid options, whatever suits your deal.
Benefits of third-party Logistics Company
Get expertise from professional supply-chain officials
In today's era, a global market is a busy place and you can hardly surface any expertise for your internal requirements. However, a third-party logistics provider can provide you with the same and even better. A 3PL has the experience and knowledge in all the major aspects including transport documentation, international compliance, import/exports, economic regulations, and many more. The businesses that are planning on expanding their reach to the international markets can benefit a lot from the 3PL service providers. They will help you to identify and rectify the costly delays, cycle time issues, and the whereabouts of the new region.
Promotes to cost savings
A 3PL provider specializes in the logistics. Thus, automatically they will have many more networks than your firm's supply chain. As they specialize in logistics, they will have extensive contacts and networks, better influence at the time of negotiations, and can serve better to your customers. All these can reduce the overall overhead costs.
You can focus on the main competencies
Outsourcing logistics will help your company to focus on the primary competencies instead of the non-core areas. This will allow your company to have a complete taste of the logistical benefits without wasting the internal resources.
Gain scalability and flexibility
One of the major benefits of having a 3PL provider is that it provides your company with a base of scalability and flexibility. This allows you to utilize the distribution and supply resources regarding the current market situations. Therefore, when your company will face a sudden down sale, then there will no extra investments or unutilized resources. Moreover, when there will be a surge in demands, your company can easily upscale.
Enables market expansion and business growth
The primary function of the 3PL firm is to help companies to expand their growth by providing them with access to a market where their presence is not that establishes or strong. If you can manage inventory in a new market without any extra expense, then it can save a lot of money for your firm.
Better customer satisfaction
All the above benefits will promote to one thing that is better customer satisfaction. A 3PL provider helps you in providing better services, timely deliveries, and overall greater brand reliability. This tends to satisfy customers, which happens to be the primary objective of every business.
The growing sector of logistics aggregator and third party logistics
As the goods and service tax (GST) has been strongly implemented throughout the country, it has provided the logistics companies in India to grow and develop even more. It has enabled the industry to reduce its costs at a convenient rate. This has improved the profit amounts by enhancing their operations and constructing warehouses in every region of India. This has been made possible because the courier enterprises of the country do not require paying distinct rates of indirect taxes for distinct states. This implementation of taxes has helped the inter-state delivery to be less cumbersome and less costly.
The overall growth and development of the expansionary policies and the complete growth in the e-commerce market were undertaken by the big FMCG organizations. This has enabled the start-ups of the logistics aggregators in the country to overcome the leaps and bounds. All thanks go to the immense demand rates for the e-commerce courier facilities. However, for continuous growth, the logistics firm should overcome the strict demands of stringent service agreements along with efficient deliveries at the same time.
Moreover, it is very important to maintain your creativity in these sectors and you must maintain your pace with the evolving technology to succeed. Advanced technology is the key to success in every industry. When it comes to logistics and shipment industry, technological advancement can put you through great success. The demand for faster shipping, lower costs, and greater reach never ceases and so a company providing courier service should never stop innovating so that they can meet and even exceed its customer's expectations.
Overall overview on the difference between logistic aggregators and third-party logistics firms
There is not that much of a difference between the logistic aggregators and the 3PL firms. Everything depends upon the perspective of viewing a logistics company. For instance, if you are considering a logistics company from the contractual viewpoint, then it can be bluntly stated as a third-party logistics company. However, if you are considering a logistics company from a scope or purpose viewpoint, then you can state it as a logistic aggregator.
In the logistical researches, many scholars tend to use these concepts simultaneously or interchangeably. However, many scholars prefer to use logistics aggregators only. Many scholars use both terms as synonyms. However, there is possibly no such clear threshold points to distinguish the 3PL and the logistic aggregators completely.
Conclusion
Logistics aggregators are becoming relevant with each passing year. Moreover, so is the 3PL industry. Both the terms are quite synonymous when it comes to the industry. These sectors are rapidly growing and are becoming an essential element of progress. If you own an e-commerce based company, then you should opt for logistics service providers or 3PL firms. They will not only help your organization for providing timely deliveries but will also help in gaining customer loyalty. In this era where technological advancement is reaching heights, your company will need that boost which will enable you to complete more and more timely and efficient deliveries. This will help your business to grow and develop.