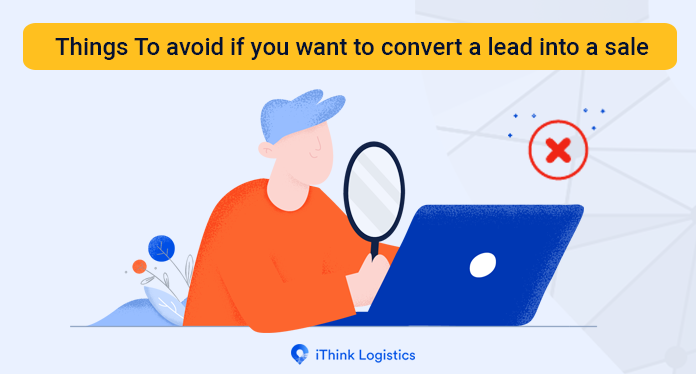 Share the post "Things To Avoid If You Want to Convert a Lead into a Sale"
When you are developing your business, one of the most important things that you have to do is generating leads. Once you generate them, you will be able to turn some of them into real customers and make sales. If you are serious about your business, then you should concentrate on doing this correctly. Leads are extremely valuable and you must remember that every single lead is important!
They can boost your sales and thus, they need your full attention. They have expressed genuine interest in your content in one way or the other and you shouldn't let them go. This also counts as an organic interest. Thy has either liked a post, clicked on a link, filled up a form, etc.
Marketers do have a hard time when generating leads; trust us, not all leads are as trustworthy or as useful as organic ones. Sometimes, people do not have any idea about the leads as well. In this blog, we are going to talk about the things that you need to stay away from to convert a lead to a successful sale.
Not all businesses are lucky enough to get it the right first time around; and thus, we will be covering this topic for you. Spending time and money on marketing can be exhausting after a point in time.
Lead generation blunders to avoid
One of the most common mistakes (unfortunately) is that people go for the shortcut. They buy leads rather than organically generating them. You will be tempted by so many companies that promise to buy you leads. But alas! They won't be for long.
You will be able to feed your sales organization for some time but it isn't a long-term route. These acts of desperation can cost a lot to your company. They will do long-term harm, which is detrimental to your business. It can harm the IP reputation as well as email deliverability.
The recipients might even mark the email as spam, which is quite bad for you. You have to understand that quality email addresses simply aren't for sale.
Generate leads that you can turn them into customers.
How to Fix It
You have to let your leads choose. You can provide exciting offers, such as an event or a webinar in exchange for their valuable time and information. Create content that would be lucrative for your target audience. It can be time-consuming but totally worth it. Work on creating interesting emails so that people would open it and read rather than feel annoyed.
Not offering lead generation stages in a buyer's journey
You don't offer lead-gen content for different stages of the buyer's journey.
Owning a business is not that easy. Turning to a successful, booming one isn't easy either.
You have to understand that everyone who visits your website has different needs and is not in the same stage of the buyer's journey. While the first-time visitors might like a guide, someone who has purchased once from you would like to see a demo of a new launch. Every buyer is different with a different history. As most buyers won't be ready to buy your products, you should enlighten them with important pieces of content. It's very important to build customer loyalty and customer trust.
How to Fix It
Invest in creating valuable content rather than flooding your site with "Buy Now" tabs. Use quality content, apt CTAs, impressive images to optimize clickthrough rates.
Cater to people at different stages and you are good to go. You can even go for customized CTAs that can convert more visitors.
These CTAs are generally based on location, the person's interest, etc.
Not using good lead generation tools
If you are not using the best lead generation tools, then you are in trouble. It is very important to understand and know the people who are visiting your site. You have to learn the things that are resonating them and the ones that aren't. Who are these people? What are their actions? You have to connect to them and thus, you must study their actions accurately. Use the industry-leading tool to learn about them and convert them into leads.
How to Fix It
To make this happen, you should use the best combination of tools so that you get insight and the best value for your money.
You can use a lead capture or contact insights tool like Lead Flows by HubSpot and get leads via pop-ups, dropdown banners, or slide-ins.
Avoid Trial and Errors
You have a preconceived notion when it comes to testing your website. Many marketers do the trial and error system in order to understand if that is working for them or not. This goes wrong in plenty of cases.
How to Fix It
Focus on which tactic works best for your company. Compare them with other strategies and find out the best. It might take some effort but it is all worth it. Do not concentrate on validating opinions and focus on discussions related to comparing of actions. You have to consider each and every option on the table as you don't know which one will work for your business until you test it.
This encourages a more holistic approach. Focus on the system but do not reinforce things on people.
Not optimizing top pages for lead generation
The mistake that people commit is not optimizing business pages for lead generation. You have to understand that you can't treat all webpages equally. You will notice that only a few websites get major traffic. These few websites are generally popular blog posts. Thus, you have to work on opportunities for people to convert to those pages
How to Fix It
Firstly, you have to understand which web pages generate the most traffic. Once you have done that, optimize those pages for leads. You have to create CTAs that stand out from the page and you need to position them in the right places on the website. Make sure you place incorrectly so that most people can get it at a glance. Positioning it in the right place is quite a trick.
You can also hike the conversion rate by offering special things! This can work for pages that already have a lot of traffic. This can be time-consuming but would be worth your time. It is effective. It might also win over more leads since it already has high traffic. It is not very easy to acquire a lead but to turn them into real customers, you have to put in efforts. And you can't afford to miss solid opportunities. If you only optimize high-traffic-getters, it might not be the right path for you.
Focus on the post that has a clear path for conversion. The idea is to generate leads but in a fuss-free and clean way.
How to Fix It
Again, this will take some research and time. You have to find posts with conversion opportunities that don't pull in a lot of traffic. You can do it with the help of data-tracking tools that can help in analyzing and understanding each post's conversion rate, number of new contacts, etc. It might seem a bit difficult in the beginning but you will surely understand with time and practice.
You will be able to track posts and get to know how each post is performing. This way, you will be able to zone on posts that pull good contacts. It will also allow you to see how traffic impacts a conversion rate.
For instance, if you see a low conversion rate on a post but the same has a higher number of contacts, this means that the post has many leads due in part to its traffic.
So for that, you can, of course, use tools. Apart from using reporting tools, you can also ask yourself a few questions, such as what is the audience interested in, what will catch their sight, etc. Finding answers to these questions will likely help you in lead generation.
Not using social media
We know a lot of businesses that flood their social media with boring posts and don't utilize the platforms well. These platforms can actually help you advertise in the right way and turn your leads into customers the right way. You have to make sure that you deliver lucrative content and you are good to go. If you are not generating lead despite trying, there could be a reason behind it. Try to dig deep and understand what's wrong with the page.
How to Fix It
One way to generate more leads from social media is by posting interesting offers, blog posts, etc. Go for content that people want to see! Try to post content that generates more leads. You can try linking to an offer's landing page. This is quite effective. This way, you can make the most of Facebook, Twitter, Instagram, etc.
Forms too long or too short
People can get frustrated if your form is too long. However, if it is too short, the quality of leads will go down as more people will fill it. You can't do both if you want to get several quality leads. If the form is short, then people will fill it but you will not get the quality you need. You have to understand all these minor points. But if it is comparatively long, then you will get quality leads.
How to Fix It
This is the reason why you should make sure you get good leads. This will help in boosting your sales.
Always remember that each step matters. It is not an easy job to convert leads to sales. The key to good leads and thereby, the better conversion needs a few steps, such as having a good website, posting proper content, and avoiding aggressive cold calls. More is not always better!
Checking the bounce rate and duration of an average visit from time to time is also suggested. The website should have all kinds of information. Know how to capture the market and understand the lead conversion path before you start making strategies.
Conclusion
So these are a few points you should consider. We hope you enjoyed reading this blog. Let us know your thoughts in the comment section below!