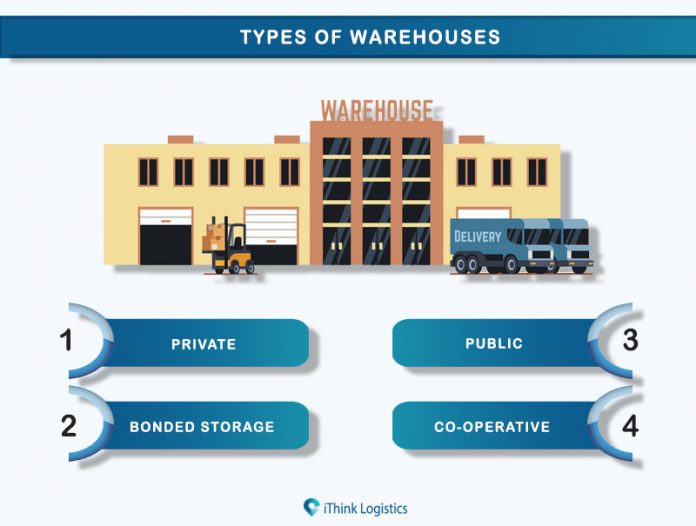 Share the post "Types of Warehouses & Which one is Best in 2020"
Types of Warehouses
A warehouse is the most important physical storage space, beneficial for the accumulation and storage of goods. Businesses of all nature, from small to large need this space for carrying out storage functions efficiently. There are different kinds of warehouses that set each of them apart from the rest in various ways. Let us give you a detailed look at the types of warehouses:
Private warehouses
These kinds of warehouses are owned and managed by manufacturers and traders or channel suppliers. These are exclusively used for their distribution activities.
Public warehouses
Unlike the former type, these warehouses are owned and operated by government and semi-government bodies. These are utilized by private firms who store their goods in return for a rent. These have been set up for helping small traders who cannot afford their own warehouses.
This is done as an initiative of central and state governments to promote industry and trade by catering to the needs. If you are a retailer, you are very well aware of the need for large storage space. This warehouse option is a must for you to store all your needs efficiently and incur increased sales.
For example, you would notice the soaring demand of storehouses, especially during wedding seasons when retailers are seen stocking on extra merchandise in order to avoid running out on their stock. The warehouses are regulated by government bodies and utilized by producers, manufacturers, importers, and exporters.
Bonded storage
If you are wondering where to store where the imported goods do get stored, this is the storage place in use. As the name suggests, this is a kind of warehouse where the storage facility is used for keeping imported goods that need to be paid duty for. These warehouses are not only owned but also managed and operated by both government and private agencies. If you are a private agency seeking to operate the bonded warehouses, you need to obtain a license from the government.
In this way, government bodies are able to acquire control of private firms and enable them to pay taxes on time. Importers are unable to take over without paying the duties. Studies have found out that these types of warehouses have mostly been seen as being situated around ports and are utilized by dock authorities.
Co-operative warehouse
Well, not only do private agencies operate the storehouses, but co-operative agencies do it too. As evident from the name, the warehouses are owned, controlled and managed by co-operative agencies. These societies offer storage accommodation at a subsidized rate only to its members where the basic intention is to help the members rather than earning the profit.
Are you looking for software solutions to manage your warehouse needs? Well, your search ends here as we have enlisted a detailed software management system solutions for your convenience.
In order to organize the working of these warehouse systems, there are warehouse management system software solutions that come of help. Businesses dealing in third party logistics, warehouse management system indeed plays a pivotal role in the daily operation. This refers to a software application that helps in controlling and managing all day-to-day warehouse operations. There are three basic types of warehouse management systems namely standalone warehouse management, integrated ERP and supply chain execution modules.
Types of warehouse management systems
Standalone WMS
Standalone systems have been brought for the types of warehouses management features. The kinds of systems need to be combined using future or existing solutions, however, it is sold as a specific specialized product, without supply chain functions. The prime focus is on best of breed WMS which can be perceived as selective breeding. This is because it comprises of the most vital features of the modules pertaining to the potential warehouse management system. For WMS, this involves warehouse operations and inventory management typically. 
If you are looking for basic software for your management needs, this type is the ideal one to opt for as it is ideal as warehouse management software for small businesses. It is also included under inventory management system types as it is highly useful towards being applicable to several industries beyond warehouse management. For businesses having a low budget, the software can help you. No other step of the logistics chain is incorporated and it might not integrate with any other types of business software such as the following ones.
Supply Chain Modules
This module might be perceived as being a subcategory of supply chain management. This software comprises of broad scope and helps users in managing everything that includes the relationship among vendors in assessing risk and business flow. Prime tasks such as inventory management, product cycles, and materials sourcing are laid emphasis upon.
In order to choose this software, it is vital to invest in applications related to supply chain planning. For businesses dealing with holistic management of the whole supply chain, the module can of great help. In order to choose this one, you need to minimize overlaps within the existing software. Hence, if you are using inventory management, fleet management along with warehouse management software solutions, you need to integrate them into one single supply chain module platform. Alternatively, you could also opt for a supply chain module that is well integrated with another kind of business software like ERP and payroll.
Integrated with ERP
ERP is one of the most powerful software solutions which are a powerhouse of several systems at large. It offers a diverse range of core applications that smoothens the 3PL process. The processes involve supply chain planning accounting, human resources, customer relationship management and so on. If you are a business looking for upgrading the software solutions, this is a good option to avail. This is one of the best options for enterprises to get a competitive edge while improving ROI.
An integrated ERP system is equipped to offer warehouse management features, however, it is not its only function. While purchasing ERP software, you need to make sure that the solution you wish to avail offers features for warehouse management well ahead of time. As diverse are its functions, it also comes with a hefty price tag as it is a power-packed software catering to all needs.
Its broad scope enables the software to replace several other applications while centralizing the operations in one single interface. If you are not happy with your software solution, instead want everything to be power packed into one single system, and then the ERP is the best choice to avail. Integration with ERP and WMS are quite different from standalone systems. This is because they offer warehouse management as a part of a tool offering broader capabilities.
The very first decision that needs to be taken is whether you wish to invest in one single specialized WMS or you intend to benefit from one combined product as a whole. The answer lies in the size and goals you have in your business.
Which is the best warehouse in 2020?
The best warehouse in 2020 is undoubtedly a public warehouse as it has been set up as an initiative of central and state governments to promote industry and trade. It aims to cater to the needs of retailers or traders. By serving as the best option for individuals having short term distribution needs, this type of warehouse is a win-win situation in 2020.
Conclusion
Any kind of warehouse cannot do without a warehouse management system solution. Businesses need to choose their type based on their requirements and needs.